Canadian Fishing Licenses
- Click the Canadian Province Images Below
BC Fishing Licenses
Click here for British Columbia Angling Licences and Fees
---
Alberta Fishing Licenses
Where do you buy an Alberta Fishing License?
You can check here at AlbertaRELM and here at My Wild Alberta
---
Saskatchewan Fishing Licenses
---
Manitoba Fishing Licenses
---
Ontario Fishing Licenses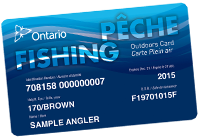 ---
NATIONAL PARKS FISHING LICENCES
All National Parks in Canada are administered by the federal government, and therefore require a separate fishing licence. Annual National Parks licences are valid for one year from the date of issue. If you would like additional information, please e-mail us at [email protected].




Definitions:
Anyone under the age of 16 may fish in the national parks without a permit if accompanied by a permit holder 16 years of age or older. However,their catch is then included within the permit holder's daily limit. They may also purchase their own permit and be entitled to the full catch limit. **Youths less than 16 year of age do not require a licence.

The following sportfishing licences are available and are valid at Banff, Jasper, Kootenay and Yoho national parks. You can find the web sites for all Parks Canada National Parks Here ...
Annual National Parks Angling Licence
$34.30
Daily National Parks Angling Licence
$9.80

Click here for other Canadian National Parks
Or Follow this link for an easy to use fee list by Park.